Recipe Spotlight: Best-Ever White Chili
It's the most wonderful time of the year – September is finally here. With those first few fallen leaves, I'm dreaming of all things fall – sweaters, pumpkins, mums, and of course chili. Nothing says fall better than chili. One of my family's favorite fall traditions is to have chili on the weekends. We usually make a batch on Saturday and will eat it all weekend. We can't be the only ones who think chili is better the second day, can we? For our first pot of the season, I made the Best-Ever White Chili recipe from The Junior League of Owensboro's famous Home Again, Home Again cookbook (page 66). I dusted off our navy blue ceramic dutch oven, got my favorite bamboo wooden spoon, turned on some jazz, my go to fall music, and started cooking. The recipe is easy to follow and straight forward, and doesn't call for the controversial pasta – though I usually put pasta in my chili. I topped off my bowl with shredded Monterery Jack and salsa, as suggested in the recipe, and added tortilla chips for dipping. Perfection! The temps may still be in the 80s but it's fall in my house!
Happy Fall, Y'all!
Jessica Weafer
Junior League of Owensboro Member
Best-Ever White Chili
4 chicken breasts
5 cups chicken broth
2 chicken bouillon cubes
1 cup chopped onion
1 (4-ounce) can chopped green chiles
4 (15-ounce) can Great Northern beans
1 cup salsa
2 garlic cloves, minced
1 tablespoon plus 1 teaspoon cumin
2 teaspoons oregano
2 teaspoons parsley flakes
1 teaspoon crushed red pepper
Salt and black pepper to taste
Combine the chicken, broth, and bouillon cubes in a large saucepan. Cook until the chicken is cooked through and no longer pink. Remove the chicken from the broth to cool, reserving the broth in the saucepan. Tear the chicken into pieces.
Bring the reserved broth, onion, and green chiles to a boil. Add the chicken pieces and beans and stir to mix well. Stir in the salsa. Add the garlic, cumin, oregano, parsley flakes, red pepper, salt and black pepper. Simmer over low heat for 30 minutes, stirring frequently to prevent sticking. Ladle into soup bowls. Garnish with sour cream, shredded Monterey Jack cheese, additional salsa, and tortilla chips. SERVES 4.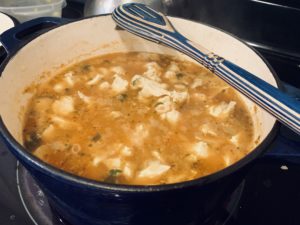 Find this recipe and many others from our local community in our Home Again, Home Again Junior League cookbook!