Recipe Spotlight: Apple Dumplings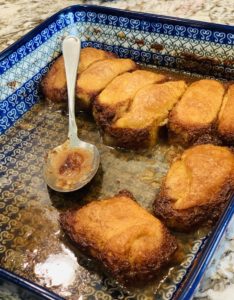 As a long time fan of the Home Again, Home Again Junior League of Owensboro cookbook, I am excited to share my favorite recipe with you. Located in the "Just for Kids" section, the Apple Dumplings recipe on page 168 is so easy that a kid could make it, but so delicious, adults will be licking their bowls. My family and I began making these apple dumplings about 15 years ago, and they quickly became one of the most requested desserts at our family get togethers. A warm, comforting bowl of joy, these were even served at one of the parties for my wedding. I hope y'all enjoy them as much as my family does.
Kristin Goad
Junior League of Owensboro member
Apple Dumplings 
2 (8 count) cans crescent rolls2 cooking apples, peeled and each cut into 8 slices
1 cup (2 sticks) margarine melted
1 1/2 cups sugar
1 teaspoon cinnamon
1 (12 -ounce) can lemon-lime soda
Unroll the crescent roll dough and separate into 16 triangles. Place 1 apple slice on each triangle and roll from the large end to the small end to enclose. Arrange the dumplings in a single layer in a 9×13-inch baking pan.
Mix the margarine, sugar and cinnamon in a bowl and pour over the dumplings. Pour the soda over the top. Bake at 350 degrees for 45 minutes. Serve topped with ice cream if desired. Serves 16.
Tip: In summer, pick up some fresh peaches from Reid's Orchard or the Peach Truck, and substitute them for the apples in this recipe. It makes an easy and delicious peach cobbler like dessert. Don't forget the vanilla ice cream!